After plummeting below the psychological price of $40K based on the ongoing Russian invasion of Ukraine, Bitcoin (BTC) is back to winning ways after breaching the $43K and briefly topping $44,000.
The leading cryptocurrency was up by 12.73% in the last 24 hours to hit $43,440 during intraday trading, according to CoinMarketCap. 
Before this price surge, fear, doubt and uncertainty (FUD) had crippled the market because negative sentiments from traders had hit a 16-month high. Market insight provider Santiment explained:
"The overall sentiment toward #Bitcoin fell to its most negative point since October, 2020. Additionally, $BTC funding rates are skewing toward shorts at a high degree. This level of FUD already appears to be propelling prices upward."
Source: Santiment
The preceding high levels of FUD were instrumental in the leg up witnessed in the BTC market.
Furthermore, Bitcoin has been experiencing high demand, given that crypto donations to Ukraine have hit $20 million. Binance Exchange, the world's largest crypto exchange, recently disclosed that it would donate $10 million towards supporting humanitarian relief efforts in the nation. 
Market analyst Lex Moskovski acknowledged that high demand had engulfed the BTC market. He noted:
"Bitcoin liquidations have been minuscule compared to the amplitude of the move. This is demand, not short squeeze."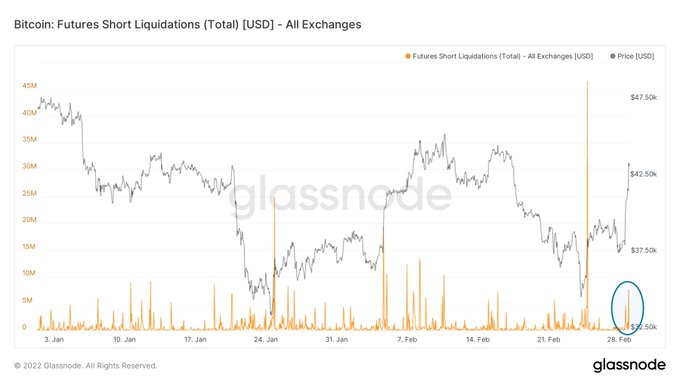 Source: Glassnode
Meanwhile, a technical analyst under the pseudonym Crypto Birb believes that BTC is experiencing a breakout.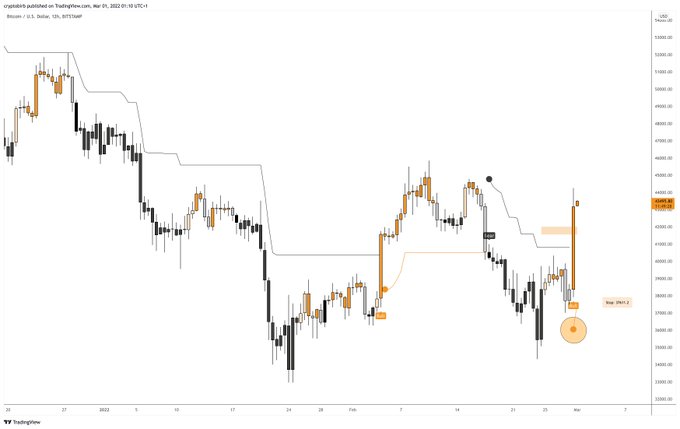 Source: TradingView
"Bitcoin has confirmed the breakout to the upside. The bulls have regained technical control over the market in the medium-term context," Crypto Birb added. 
Crypto trader Scott Melker acknowledged that the leading cryptocurrency was back to a zone where it has experienced significant support and resistance for more than a year. 
Image source: Shutterstock